How Do I Prevent Constipation?
Before you jump to medication, the first step in constipation prevention involves lifestyle changes.
A simple place to start is your diet. By consuming more fiber, your stool can increase in weight and more easily pass through your intestinal system. Choose fiber-rich foods such as fruits and vegetables and foods labeled as having 3 grams or more of fiber.  It is also important to drink at least four to six glasses of fluids per day.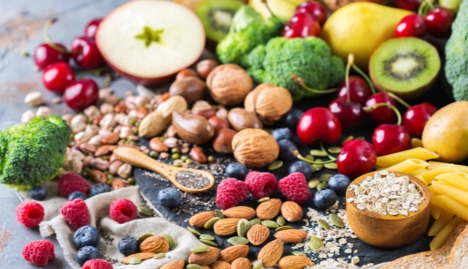 Check out the chart below for some fiber-rich foods:
Beyond your diet, the next set of lifestyle changes involve your daily routine. Try to fit in a workout most days of the week, as regular exercise increases muscle activity in your intestines. Another key to digestive ease is giving yourself enough time to pass a bowel movement. While it can be difficult to fit a trip to the bathroom in your busy schedule, your body will thank you later if you take care of your number two needs in a timely fashion.
About Occasional Constipation
If you have questions about constipation, you're not alone. Constipation affects an estimated 63 million people in North America, making constipation one of the most common gastrointestinal complaints.1
Some possible symptoms of constipation may include2-4:
Infrequent bowel movements
Irregular bowel movements
Incomplete bowel movements
Pain or straining during bowel movements
Hard, dry stools
Excessive bloating
If your need for a laxative lasts for more than one week, you should see your doctor to make sure it's not a sign of a more serious condition.
References
Higgens et al; Am J Gastro 2004 Apr, 99(4) 750-9
National Institute of Diabetes and Digestive and Kidney Diseases. National Digestive Diseases Information Clearinghouse (NDDIC). Definition & Facts for Constipation. https://www.niddk.nih.gov/health-information/digestive-diseases/constipation/definition-facts Accessed July 2017.
American Gastroenterological Association. Constipation. Available at http://www.gastro.org/patient-care/conditions-diseases/constipation. Accessed August 2017.
American Society of Colon and Rectal Surgeons. Constipation. Available at https://www.fascrs.org/patients/disease-condition/constipation-0. Accessed August 2017.