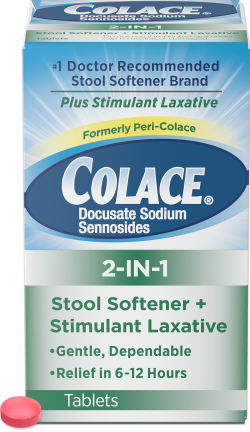 3 DIFFERENT PRODUCTS FOR A #2 THAT'S EASY TO DO
Info
How Colace® 2-IN-1 Works
Recommended Doses
Warnings
Colace
®
2-IN-1 Tablets soften hard, painful stool by combining stool softener action (docusate sodium) with the gentle stimulant power of senna.
Gentle, reliable relief from occasional constipation (irregularity) in 6-12 hours
Stool softener plus stimulant laxative
The active ingredients in Colace® 2-IN-1 Tablets are docusate sodium and standardized senna concentrate. These ingredients are used together to help relieve occasional constipation. Docusate sodium works to soften the stool. Standardized senna concentrate is a laxative that helps to gently stimulate motility of the intestines.
Take only by mouth. Doses may be taken as a single daily dose, preferably in the evening, or in divided doses.
Colace® 2-IN-1
Adults and children 12 years of age and older: 2-4 tablets daily
Children 6 to under 12 years: 1-2 tablets daily
Children 2 to under 6 years of age: Up to 1 tablet daily
Children under 2: Ask a doctor
Do not use laxative products for longer than 1 week unless told to do so by a doctor.
Do not use if you are presently taking mineral oil unless told to do so by a doctor.
Ask a doctor before use if you have:
Stomach pain
Nausea
Vomiting
Noticed a sudden change in bowel habits that lasts over two weeks
Stop use and ask a doctor if you have rectal bleeding or fail to have a bowel movement after use of a laxative. These could be signs of a serious condition.
If pregnant or breastfeeding, ask a health professional before use.
Keep out of reach of children. In case of overdose, get medical help or contact a Poison Control Center right away.